CRS & USAID Exhibition
Ofoodi Receives Recognition Award: In 2018, Ofoodi had the opportunity to serve at the Catholic Relief Services and USAID Exhibition in Abuja, Nigeria. This event brought together stakeholders in the food and nutrition sector, including international organizations, government agencies, and private sector players. The goal was to showcase innovative solutions that could help address the challenges of food security, malnutrition, and poverty in Nigeria and other parts of the world.
Ofoodi, a Nigeria & UK based social enterprise, was one of the organizations that exhibited at the event. Ofoodi's mission is to improve the nutritional status of vulnerable populations, especially children and women, through the production and distribution of affordable and nutritious food products. The company uses locally available and sustainable ingredients to create healthy and tasty snacks that are accessible to low-income families.
Every seed has a potencial for growth but needs to be watered. Touching lives starts with the tinnest possible steps you can take.  make it count. 

Dideolu Olufelo
At the exhibition, Ofoodi showcased its products and shared its vision for a world where everyone has access to nutritious and affordable food. The company also engaged with visitors and other exhibitors, sharing knowledge and insights on sustainable nutrition and food security. Through its participation in the exhibition, Ofoodi demonstrated its commitment to the Sustainable Development Goals, particularly Goal 2 – Zero Hunger.
Ofoodi Receives Recognition Award: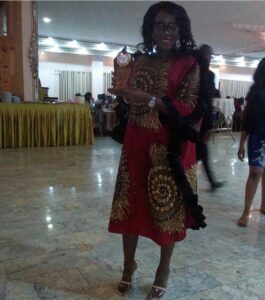 In recognition of its efforts, Ofoodi received a recognition award at the event. This was a significant milestone for the company, as it demonstrated the impact and relevance of its work in the food and nutrition sector. The award also served as an encouragement for the Ofoodi team to continue its mission and expand its reach to more communities in Nigeria and beyond.
Overall, the Catholic Relief Services and USAID Exhibition provided an excellent platform for Ofoodi and other organizations to showcase their solutions and collaborate on ways to improve food security and nutrition. It was an opportunity to learn, network, and celebrate the progress made towards a world where everyone has access to nutritious and affordable food. Ofoodi is grateful for the opportunity to serve at the exhibition and looks forward to more partnerships and collaborations in the future.
Ofoodi online African store
Ofoodi is a social enterprise that operates an online African store based in Stoke on Trent, UK. The company was founded with the aim of promoting African food and culture in the UK while also addressing the issue of food security in Africa. Ofoodi sources its products from small-scale farmers and producers across Africa, with a focus on organic and sustainably produced goods.
The Ofoodi UK online store offers a wide range of African food products, including spices, grains, flours, sauces, and snacks. Customers can place orders via the Ofoodi website or mobile apps, which are available for download on the Apple and Google Play stores. The online store delivers to the entire UK mainland, including Scotland, and offers a range of shipping options to suit customers' needs.
One of the unique aspects of Ofoodi is its commitment to promoting African culture and heritage. In addition to its online store, the company also hosts events and workshops that showcase African food, music, and art. These events provide a platform for African entrepreneurs and creatives to connect with customers and share their stories.
Another important aspect of Ofoodi's work is its social impact. The company works with small-scale farmers and producers in Africa, helping them to access new markets and earn a fair price for their products. Ofoodi also donates a portion of its profits to support community development projects in Africa, such as building schools and providing access to clean water.
Overall, Ofoodi is a unique and innovative social enterprise that is making a positive impact in the UK and Africa. Its online store offers a convenient way for customers to access high-quality African food products, while its events and workshops promote African culture and heritage. By working with small-scale farmers and producers and supporting community development projects, Ofoodi is helping to create a more sustainable and equitable food system.
#OrientingFoodInternational #SustainableNutrition #FoodSecurity #HealthyNotHungry #Goal2 #ZeroHunger #Humanitarian #Endmalnutrition #EndHunger #SustainableDevelopmentGoals #TOSDI #Ofoodi #Award #Feedthefuture #recognition #appreciation #Celebration #Grace.
Thank you Catholic Relief Services and USAID for the opportunity to serve!!!