The passion farmers have cannot really be understood till you hear their experiences. Raji Olalekan Saiid is one of the prominent Young farmers in Ibadan Nigeria sharing his experiences.





Sometimes all we want to do is change the world. At times like these we are mostly teenagers. Firing along on testosterone. Hardly listening to the whisper of Universal Wisdom.
Perhaps we (humanity) took it too personal in the beginning when that fatherly voice declared angrily:
"Cursed is the ground for your sake. In sorrow shall you eat of it. Thorns and thistles shall it bring forth for you. Out of your sweat shall you bring out bread."
But what Wisdom was saying then and now was simply that:
"To eat well, you must harvest.
To harvest, you must sow.
To sow, you must sweat."
And we are not talking gym parlour six pack grooming sweat here.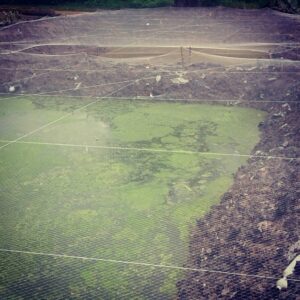 Cat Fish Pond
Sowing and harvesting aka farming is an activity of toil and much sweat, whether you are cultivating a corner of your backyard or tackling food sufficiency cultivating 100 hectares of land.
Pressing a seed into the ground and watching it grow into thousands of its type is the essence of economics and general human activity: bountiful harvest.
You sweat in stages: Clearing the land of thorns and thistles is hard work, whether wielding machetes or driving noisy bulldozers.
Next is ploughing and ridging, using flimsy hoe or tractors.
Then comes planting, which brings its own sweat when you have to contend with heaven's rain or consider creating artificial rainfall to be in season.
You sweat when you have to expertly spray herbicides and pesticides that are selective: meaning chemicals compounds that have to kill the insects and weeds without hurting your growing crops.
You sweat when you build hedges to keep out the pests: cattle, goats, sheep and human invaders.
You sweat every step of the way, nurturing your plants, checking leaves for disease and discoloration.
Until you harvest, and you have to contend with market forces, transport, and logistics and the general economics of buying and selling.

I didn't set out to change the world when I got into farming. But I learnt quickly that to change the world, you have to spend less time in the gym changing yourself. And listen more to the voice of Universal Wisdom.
There is a time to plant and a time to harvest. In between lies the key to feeding a hungry world, achieving food sufficiency and fulfilling the wishes of a wronged yet caring father: Go forth unto the earth and sweat, then multiply.